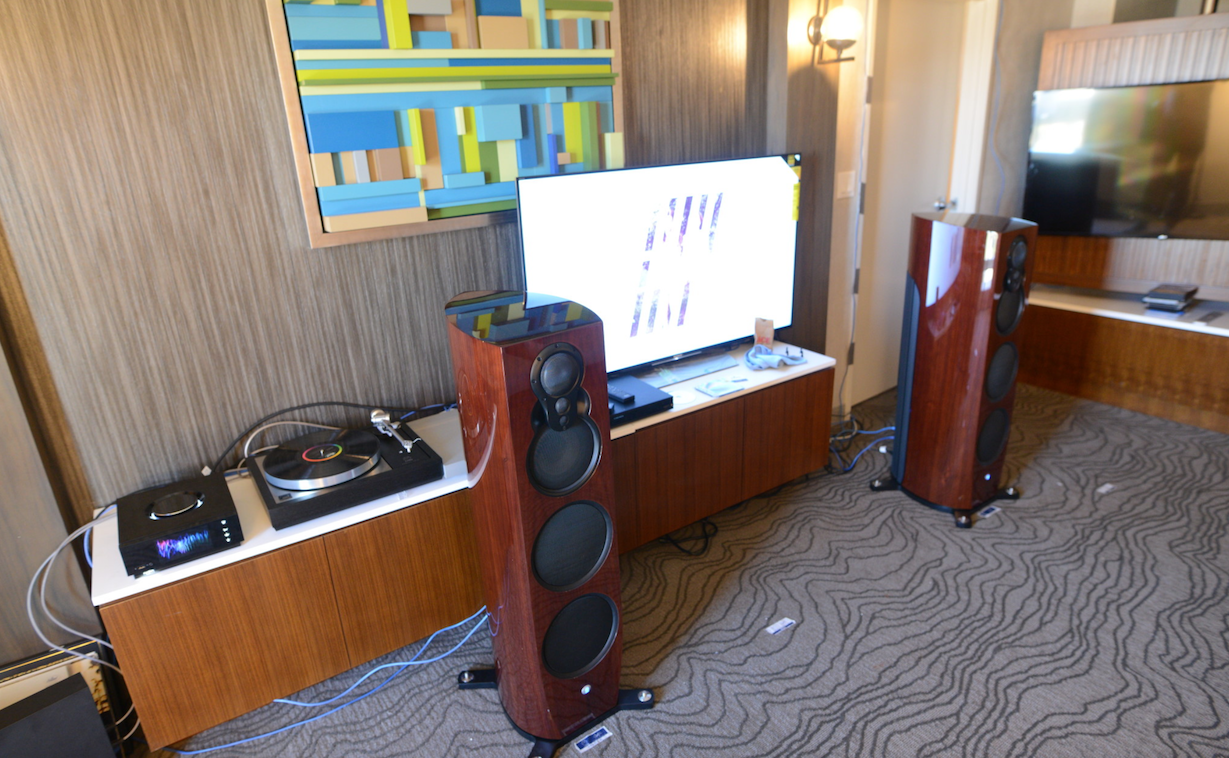 Basil to showcase Linn's new Klimax 350 and Akudorik loudspeakers featuring its latest cutting edge digital-to-analogue technology – Katalyst 
And for the first time at a US audio show, Basil will host Linn's most realistic movie experience ever with a fully Exakt Surround Sound system
LOS GATOS, Calif. , October 2nd 2017 — Basil Inc. today announced that it will be presenting an exciting range of Linn systems at the Rocky Mountain International Audio Fest 2017 in what promises to be the Scottish manufacturer's strongest line-up in the show's 14 year history.
In a variety of their highest performing systems, Basil will demonstrate the full range of Linn's capabilities to give the finest musical and most immersive movie experiences possible.
Basil's expert team will introduce Linn's unique built-in technologies including Exakt, Space Optimisation and the latest Katalyst DAC Architecture. They'll also demonstrate how an Exakt Surround Sound system allows family-friendly speaker placement due to Space Optimisation software and delivers the most natural sound thanks to linear phase for all loudspeakers.
"There's a whole host of technologies at work in an Exakt Surround Sound system; Exakt technology removes phase and mode issues to guarantee the best sound, Space Optimisation allows you to put your speakers where you choose and now Katalyst delivers a deeper insight to your music and movies. We are pleased to partner with our US dealer Basil Audio to present Linn's ground-breaking systems at the Rocky Mountain Audio Fest this year" said Gilad Tiefenbrun, Managing Director of Linn Products.
Products on display in the Basil suite #1130:
System #1
Linn Klimax System featuring Klimax DSM, Klimax 350 loudspeakers and Linn Klimax LP12 turntable
Linn Klimax Exakt Surround System
System #2
Linn Akudorik speakers featuring Katalyst technology
Linn Akurate Exakt DSM
Linn Akurate LP12 turntable
System #3
Linn Akurate Exakt DSM
Linn 5 series 530 Exakt loudspeakers
Server
Linn Kazoo server running on Mac OS X
Apps
Linn Kazoo app for iPhone and Android
About BASIL INC.
Basil Inc. was formed to provide, install and support world class audio systems for music lovers and audio enthusiasts in the San Francisco Bay Area. Basil selects
audio components and systems from leading manufacturers and provides system solutions that are musically and aesthetically satisfying in home or office environments. The Basil team has extensive technical experience over decades designing complex analog and digital systems used in leading high tech systems and by semiconductor companies. The company was born from a close association with the key partners and a desire to demonstrate that  multi-room network streaming, musical appreciation, audio engineering discipline and social
interaction are not separate but together enrich our lives.
Based in Los Gatos, Calif., Basil services customers in Northern California and other regions in western US.
Basil and the Basil logo are trademarks of Basil Inc. All other brands, product names and marks are or may be trademarks or registered trademarks used to identify
products or services of their respective owners.
Visit: basilaudio.com for further information about Basil.
Follow Basil Audio on Facebook, Twitter, Instagram and Google
Facebook: facebook.com/basilaudio
Twitter: @basilaudio
Instagram: basilaudio
Google: Basil Inc. Audio Systems
About Linn
Linn design and make the best music systems in the world. Based in Glasgow, Scotland and established since 1973, Linn manufacture everything in-house, from the electronics in their industry-leading technologies, to the loudspeakers found in homes around the world. The iconic Sondek LP12 turntable continues to set the standard for vinyl playback and the latest digital stream players out-perform any CD or network music player available.
Linn systems are sold through a global network of independent specialist retailers who also share Linn's passion for enriching people's lives through music. Linn were awarded a Royal Warrant as suppliers of entertainment systems to the Royal Household, and received the Queen's Award for Enterprise in Innovation in 2012.
Visit: https://www.linn.co.uk for further information about Linn and its products.
Follow Linn on Facebook and Twitter for the latest updates.
Contacts
Basil Inc. Press Contact:
Deondra Bicknell, 408-647-5407
Deondra.Bicknell@basilaudio.com
Linn Press Contact:
Andrena McBain
Andrena.mcbain@linn.co.uk